CEO MESSAGE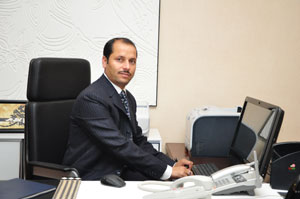 Greetings and welcome to ADEX.
Foundation for ADEX Contracting, Maintenance & Operations was laid a decade ago. Since then we have maintained the pace and have contributed significantly for Saudi Arabia's outstanding growth in the construction sector. The amalgamation of skilled workforce and technology is our strength. We consistently follow international standards of quality, thereby providing unrivalled success to our projects.
What makes ADEX a different and dynamic company?
We work synergistically and consider our team members as working partners. We treat our team members with utmost respect and encourage candour, accountability and ethics at work place. We believe that to grow as an individual and as a company these attributes are central.
Our team has provided sustainable solutions for a better tomorrow and the teamwork is aptly displayed in our diverse range of projects equipped with latest technological advancements.
Our strong vision further boosts and motivates us to grow exponentially. We aspire to perform with sincerity for our business partners and shareholders.
Our annual turnover is gaining a growth graph every year, which very well defines our strong position in terms of capital investment and returns. Our endeavors can be suitably defined in variety of business verticals such as Residential Complexes, Five Star Hotels, Palaces, Commercial Towers, Malls, Mosques and Hospitals.
We have a multinational presence and envisage further expansion in different geographies.
Our corporate accomplishments are based on our talented work force. I am confident and committed to achieve and display impressive results by working together as a team.
VIQAR HASAN
CEO